Maximizing Efficiency and Convenience: ATM Sales and Placement Services for Standalone Stores and Chain Businesses in Upstate New York
ATM Systems Solutions is proud to offer ATM sales and placement services to standalone stores and chain businesses in Buffalo, Syracuse, and Rochester, New York. Our team of experts will work closely with you to understand your specific needs and provide a customized solution that meets the unique demands of your business.
ATM Placement Boosts Business Sales
An ATM, also known as an Automated Teller Machine, is a self-service banking machine that allows customers to withdraw cash, check their account balances, and perform other banking transactions. ATMs are typically located in convenient locations such as banks, grocery stores, and other high-traffic areas. Having an ATM on the premises can increase foot traffic to a business or store as customers are more likely to stop by if they know they can access cash quickly. An ATM can also provide businesses or stores with additional revenue through surcharge fees. Additionally, it can also help to increase sales and customer satisfaction.
How an ATM Will Benefit Your Buffalo Business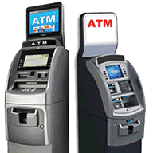 In Buffalo, NY, we understand that standalone stores such as grocery stores, barber shops, and laundromats have a high demand for ATM services. These types of businesses typically have a steady flow of customers, and having an ATM on the premises can provide convenience and increase foot traffic. You can expect an average of 3% of patrons who see your ATM to use the machine. So if you have 500 patrons a day and you're collecting a $2 surcharge, you'll be earning an extra $1,000 a month in revenue!
ATM Resources for Syracuse Students
Universities and colleges present a unique set of needs for ATM services. Our team is experienced in providing ATMs for campus environments. We understand the importance of providing reliable, secure, and easy-to-use machines to students, faculty, and staff. More than two-thirds of the population carry a debit/ATM card while far fewer have cash. Gen Z is "making cash cool again," so ATM solutions are even more important for Syracuse college campuses. Our ATMs are designed to handle a wide range of transactions, and our team can help you choose the best ATM for your specific needs.
Saving Sales for Rochester, NY Businesses Where Cash Is King
Standalone stores in Rochester's thriving business community present a wide range of opportunities for ATM services. Whether you're a small business owner or a large corporation, we have the expertise and resources to provide you with the ATM solutions you need. From high-volume retail locations to corporate offices, we have an ATM solution that will work for you.
With the legalization of recreational cannabis, we also want to mention the opportunity for dispensaries to place ATMs on the premises. With cash transactions being the norm for cannabis purchases, having an ATM on-site can provide convenience for customers and increase foot traffic for the dispensary.
Quality Service from ATM Systems Solutions
ATM Systems Solutions is a leading provider of ATMs throughout the U.S. We offer a wide range of solutions for small and mid-sized businesses and large festivals and venues. Whether you need a single ATM set-up or multiple machines for high-demand locations, we have the expertise to provide you with the right solution.
At ATM Systems Solutions, we understand that ATM sales and placement is not just about providing machines; it's about providing solutions that meet the needs of your business. We take pride in our ability to provide exceptional customer service. At ATM Systems Solutions, our mission is to "provide service with value," and that's exactly what we do. With a dedicated warehouse and office space, we're able to provide fast and efficient service. We work closely with our customers to understand their specific needs and provide customized solutions that meet those needs.
We're available 24/7 to assist you. You can reach us via our toll-free technical support phone line at 1-888-428-6249 or fax us at 315-423-3951. Our team of certified technicians is ready to help you with any questions or issues you may have. To see if you qualify for a FREE ATM placement, reach out here. Contact ATM Systems Solutions today to learn more about how we can help your standalone store or chain business in Buffalo, Syracuse, and Rochester.