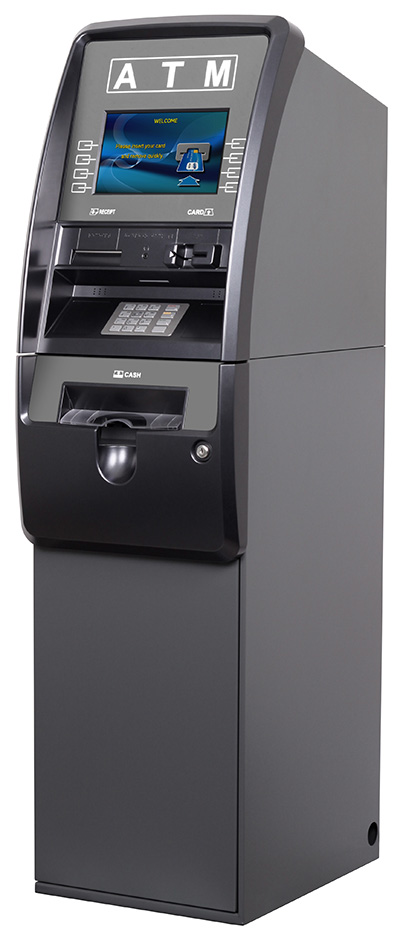 Genmega introduces the Onyx series ATM. A new, modern, upscale design containing a set of standard features that are sure to impress, the Onyx provides the latest in ATM technology for any market. Whether in a hotel, club or gas station, the Onyx ATM provides the look of a high-end financial ATM to reassure customers and encourage transactions.
The Onyx boasts features which include a 10.1 "wide LED-LCD, an optional 12″touch screen, as well as a reflective front bezel panel for customer security, and lighted-touch function keys. In addition to custom on-screen advertisements or branding an optional 3" printer allows for receipt graphics. The Onyx ships fully compliant for EMV, PCI-EPP and ADA.
The Onyx supports a full range of dispenser options to meet any needs or capacity, including a presenter and multiple cassettes . The Onyx supports all Genmega dispensers or can be ordered as a shell for use with your existing CDU. The Onyx has an all new UL291 vault with an inset door and is available with both dial and electronic locks.
Integrated Illuminated Sign
High Visibility LED Sign
Attract Customers
LCD Screen
10.1 inch Wide TFT LCD Color
1280 x 800 Resolution
12″ Touch-screen (Optional)
Customizable Ad Screens
8 Lighted-Touch function keys
Printer
56mm (2″ standard)Â
80mm (3″ optional)Â
Graphics Capable with 3″
PIN Entry Device
16-key Alphanumeric
PCI 3.0 certified EPP (Encrypting Pin Pad)
LED Illumination
Communication
56,000 bps dial-up modemÂ
TCPIP Ethernet connection – Onboard SSL
CPU
Coretex-A8 CPU (800MHz)
DDR2 256MB SRAM memory
256MB Flash Memory
Windows® CE 6.0
ADA
Voice Guidance System
Lighted Transaction Guidance
Accessible Keypad Layout
Card Reader
EMV (Dip type)
Security
UL291 Business Hours Vault
Dial or Electronic Lock
Cash Dispensers
800 Note Fixed Cassette
1000 Note Removable Cassette
Up to 4 xl 700 Note Removable Cassettes
Up to 4 x2000 Note Removable Cassettes
Dimensions
Height= 56.47″
Width = 15.82″
Depth = 22.32″
Weight= 206 lbs
Power Requirements
110/220 VAC ± 10%, 50/60 Hz, 85.5 Watts