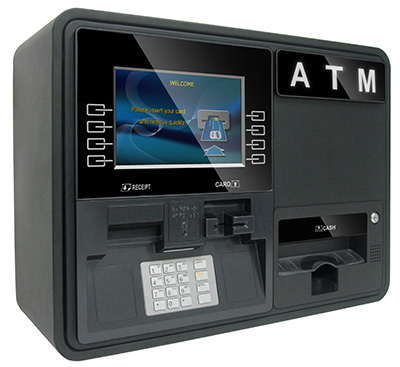 Introducing the all new Onyx-W ATM. The Onyx-W can be installed securely as a Wall Mount or on a Counter Top. You're installation options are only limited by your imagination.
Featuring a high-resolution 10.1″ LED screen and light-up touch function keys along with 2″ receipt printer, the Onyx-W uses the same modules and software capabilities and functions found in existing Genmega ATMs. Dispensing is handled via a 1,000-note removable cassette which is secured inside its own internal vault system which is available with electronic lock and various audit locks.
CPU
Coretex-A8 CPU (800MHz)
DDR2 256MB SRAM memory
256MB Flash Memory
Windows CE 6.0
LCD Screen
10.1 inch Wide TFT LCD Panel
1280 x 800 Resolution
Customizable Ad Screens
8 Lighted-Touch function keys
Printer
56mm (2″standard)
ADA
Voice Guidance
Lighted Transaction
Guidance Accessible Keypad Layout
Card Reader
EMV (Dip type)
PIN Entry Device
16-key alphanumeric keypad
PCI 3.0 certified EPP (Encrypting Pin Pad) LED Illumination
Communication
56,000 bps dial-up modem
TCP/IP Ethernet connection – Onboard SSL
Integrated Illuminated Sign
High Visibility Integrated LED Sign Attract Customers
Security
Electronic Lock
A-Series Lock
Cencon Lock
Cash Dispensers
1,000 Note Removable Cassette (WCDU)
Dimensions
Height= 19.7″
Width = 26.8″
Depth = 10.4″
Weight= 121 lbs.
Power Requirements
ACl 10/220 V ± 10%, 50/60 Hz, 145 Watts